GET FOUND ON GOOGLE & RANK HIGHER WITH LOCAL SEO
Local & Mobile Search Optimization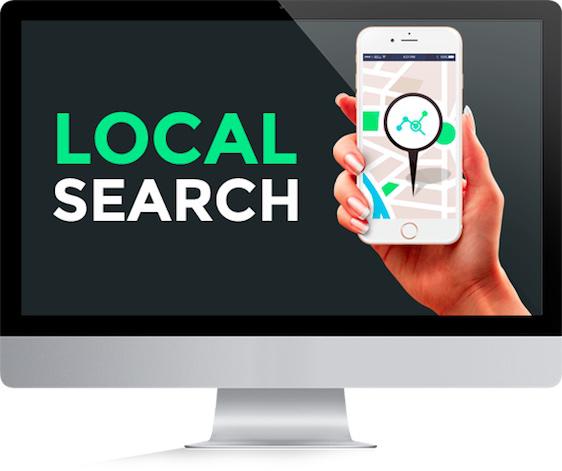 Look for local information on their mobile phone
0
%
OF ALL SEARCHES ARE LOCAL
People looking for things near and around them
70% OF ALL SEARCH WITH GOOGLE IS LOCAL.
 Can customers find you when they look for you?
What does that mean?  It's means people are looking for a business or service, so they can visit them, hire them, or buy from them…
RIGHT THEN.
And the 70% who do a local search, more than 50% visit a searched business that very same day!
That means you only have one shot to be in front of them and get their business.
THE QUESTION IS: Are you getting that business?
If listings for your business are not accurate on the Internet, or your business information is not optimized – then you will miss out on this traffic. In other words, they will call someone other than you, most likely your competition.
Even worse, if your information is incorrect or contains errors, then potential customers could be calling you at incorrect numbers, or even visiting your competitor's website, when they actually were searching for you!
The importance of local optimization is greater every day.
Mobile Search and the rise of "Near Me" searches: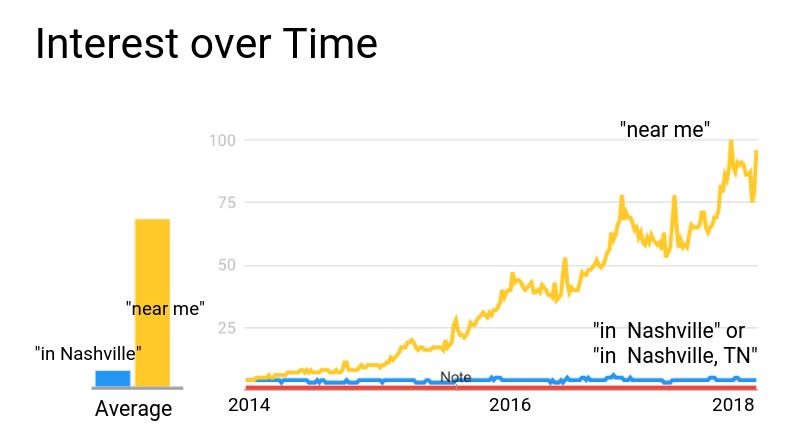 It does not matter how good your service is…
If customers can't find you online, your business will fail.
As a business owner, you already know that the #1 problem that can destroy a small business is is not having customers.  If you are not getting phone calls and emails from you website – then you have a Local Search Engine Optimization problem, what most people refer to as Local SEO.
But we can solve this problem, before it cripples your livelihood.  We'll get your phone ringing again so you can focus on your customers and running your business.
You advise your customers to hire you because of the expertise and experience you have.  The same applies to SEO and search optimization. It is critical to have an SEO Expert on your team. For example, the term "plumbers in Nashville" gets roughly 1,800 searches per month. Now imagine if your business was at the top position of Google for a term with that many local queries. What would that amount of new traffic and inquiries do for your bottom line? There are many terms in every local market just like this – ready to be taken!
If you are great at what you do, but you need help getting customers to your website or on the phone…we can help you.
Think about it: this is what we do, all day, every day…and local search is complicated!
To rank highly on Google for these local searches, you actually need to rank highly on a large group of local search websites that feed data and information into Google. This provides Google with important signals about your relevancy and authority for a particular topic and location. Here are some of the key sites where we monitor and feed your data, to improve your local visibility:

How to Rank Locally, our Step by Step Guide to Local SEO
Over time, we have developed a strategy to help local businesses rank highly for searches related to their services in the areas where they are located. It's complicated, but after much trial and error, we are able to consistently follow our Step by Step Guide to Local SEO and really make a difference in the number of calls and website visits that our clients get. Take a look: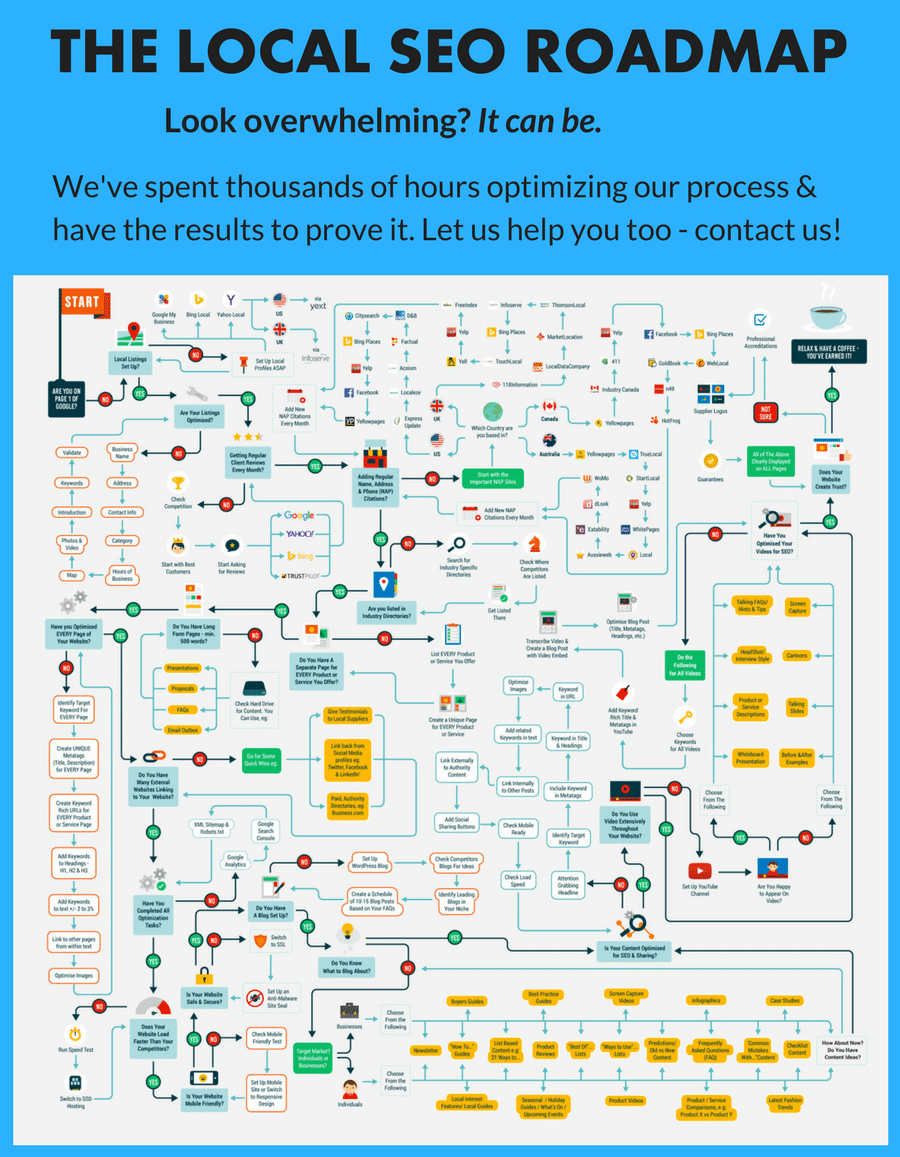 After all, you were searching online… and we got you here, to this page.
Let us do the same thing for your business – so we can get your potential customers to your website.
GET HELP NOW WITH A FREE STRATEGY SESSION:
Let us help! Contact us for a free strategy session for your website or business. We'll identify the biggest problems you should fix first. No strings attached!